Hello Friends,
Now that we are past the holidays I thought it
was time for some pink fun. I entered a Magnolia
comp book swap at the CMB and here is my creation.
I have been kinda of hoarding this paper for awhile
and decided that this was the time to pull it out.
It is by Now and Then and I love it! I started with the
gorgeous vintage heart which I edged with TH glaze.
I used wide satin ribbon and wide vintage lace
on the binding. I also added some ribbons for bookmarks.
I love this little Tilda with the butterfly
tugging on her dress, so adorable! I used some prima flowers
and also some imaroses to embellish along with her initial
and a cute little pink glittery butterfly on the corner.
I hope you like it as much as I do.
Thanks for stopping by.
Front
Inside front cover/tag
Inside back cover , pocket with extra stamped images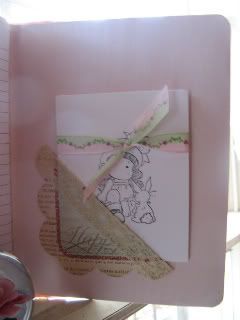 Back cover