Hello Ladies,
I just finished making this precious pink jewelry box for my sweet
grand daughter who is having her 5th birthday next week. Besides the outside
there were three "layers" I had to work on. Since she loves princesses
I decided on the princess theme. I started painting the box with a soft pink
acrylic paint then went over it with a creamy off white, leaving some of the pink showing thru. Then I used the TH white crackle paint, glazed around the edges
and finger painted some crystl stickles around the top frame of the top.
Then I got out the Modge Podge and adhered my "Once Upon a Time" paper
to the top, bottom, sides of lid and inside the seperated trays. After that dried
I began the really fun part of adding the embellishment. First I added a gorgeous
line of mini cream bloomers on the bottow (outside) then I also went around the whole box with another line of a soft creamy ribbon ruffle trim.
On the top I used a Prima Pink and white flower and butterfly,
the PRINCESS word and the Princess figure itself.
Then I decided to also embellish the mirror on the inside of the lid.
I used flowers, leaves, a crystal flourish, and a mini frame which I also altered,
changing it from silver to gold tone and addding the pink bling and stickles around the edge. Finally I cut my pic of Eva to fit frame and adhered with my Fabritac glue. I also colored Eva's name with Krylon 18 kt gold leafing pen and edged the seperated areas also with this. I am hoping this will be a really special gift
for my sweet Grand daughter that she will treasure.
Thanks for stopping by,
Kathy
Top and front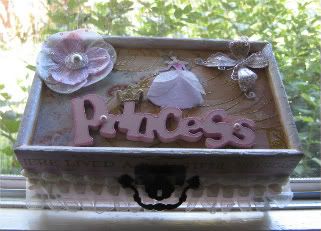 The bottom of box under the 2 seperated trays
The mirror and seperated trays