Hello friends,
I have been a crafting ninja lately but haven't had time to share
too many of the projects here so I am sharing this box I made recently
I started with acrylic paints..layer on layer until I got the colors/look I liked
then I added embossed snowflake paper on outside with Modge Podge.
I then also used acrylics over the embossing. After that I modgepodged
again. Finally I used a sparkle varish spray over that with gold flecks
for pizazzz.
The top image and little one inside the lid were recycled from a greeting card
I had saved. I love to do that, use everyday things and save money and
get something really unique.
Then hubby drilled a hole in front and I attached the hanging pearl
tassel also used for a knob to open the box.
I then went around the whole box with my pretty lace trim attached with
fabritack glue and worked it around the tassel piece hiding the seam
as much as possible.
Finally I tried a new cricut cart called "Flower Shoppe" and created the two
little flowers on this. I really only used the same cut for the second one cause I saved the spiral negative and rolld it up to make the smaller one.
I also embossed a coupe layers of the flower petals and inked with my TH
ink...then glued the layers together and added the pearl and bling centers and a little more finger painted stickles.
I hope Bonnie will like this and be really suprised and blessed when she gets
it, which should be really soon ( maybe tomorrow) :)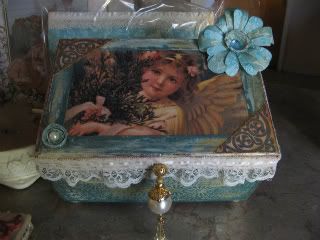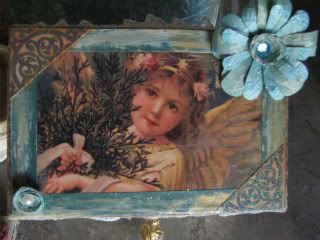 Oh yeah I forgot about the little corners things. These I cut out of the Once upon a Time paper pack.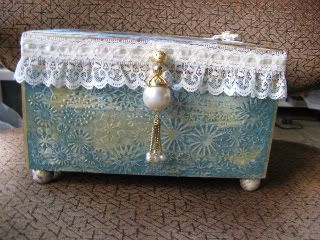 I also used a Krylon gold leafing pen over corners etc.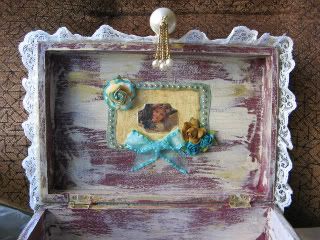 Inside the lid I made this little label and added ruffly edged aqua
ribbon bow, Th glaze, some stickles, half back pearls and roses.
I also used glossy accents over this little angel to add dimension.
Thanks for stopping by. Feel free to add comments.
Kathy