Hello,
I thought today maybe I'd share both the paint can I made and the one
I received from my partner Cherrie Clement in a paint can swap at the CMB.
I was very excited to share both with you. This was the first one I have ever made so I was very happy with how it turned out.
It's funny because we picked very similar paper and colors except mine
had more pink and hers had more green. I think they are both gorgeous!
So I'll start with mine.
After making it, I stuffed it with some of her wishes, some handmade lollipops and suede tags etc. We opened them together via the phone and had a wonderful time together. She also got some very special news that day!
Now I'll show you the beautiful can she made me filled with all kinds of goodies.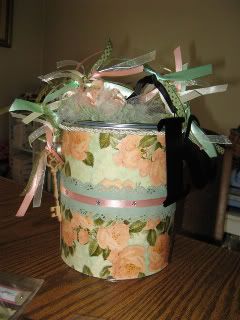 Thank you so much,Cherrie, and congrats on the upcoming grandchild...
wooo hooo!
Thanks for stopping by!