I lined the inside of my box with gold satin and then
used a real vintage hankie with a brooch
with a crystal on it, to that I attached my
chunky charm and then I also made 3 stick pins
and added them to the top. Inside I had three handmade tags
as well as 3 handmade flowers, a TH butterfly and some bling.
I added a real Brittish gold stamp as well to the back, along with
ribbon and lace trim.
closeup of tags, butterfly and flowers
middle tag had real ivory vintage button
from my mother's button bag.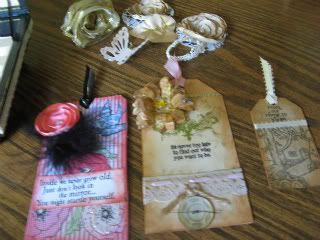 Thanks for stopping by!