Grandma J on the CMB message board hosted a weekend crop this past weekend
in Galesburg IL. I talked my sweet sister, who is just a beginner crafter, into
joining me for this and we had a blast. We were also to make an altered frame
with our screenname and real name and on Sunday we all voted on our favorite
ones. I was so thrilled and suprised when Janice walked up to me and handed me the prize basket and told me I had won. Woo hoo more goodies to take home. We all donated snacks and door prizes and I think almost all of us got
3 door prizes plus we made little cute or yummy things for each person and
tucked them in a little canvas goodie bag made by Janice. It was amazing to
finally meet face to face so many of the ladies I have been swapping with over the past year and in fact I also had a box swap face to face with heart2hand while there...more amazing craft goodies. Wow! All I can say is this was a wonderful weekend and also I learned and taught some new techniques
to the ladies. Thanks so much Grandma J for all your hard work!
My 1st altered frame, I used allot of my fav things on this, my fav color of blue,
my fav pic of my family when the kids were little, stickles,my fav scripture verse, (1 Cor:13) some of my fav embellies like the dress form, butterfly, lace and pearls. Heartfelt thanks to all who voted for me and for stopping by.
Here I am with my frame and the prize basket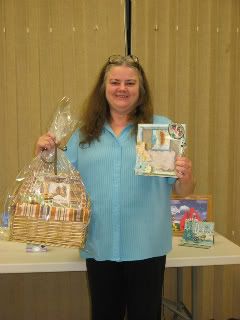 The grp pic taken on Sunday