Hi,
I recently made this frame with the winnings from my other frame
contest. I started with a $2 frame from sal army that was kinda
beat up. But we're all about the distressed look right? LOL
Anyway, I painted it first with Krylon then painted over that
lightly with creamy acrylic. Then began to build my little fence
out of popsickle sticks etc. I used glossy accents on the scarecrow
graphic and added a prima with some gold sparkle spray and the
other embellies. On the paper I cut the partial, straight part of the frame
with my paper cutter then hand cut around the pumkins so they can
overlap the photo. I am hoping to get a really great pic of my gkids
this fall with all 3 of them in it with some pumkins or something
like that to put inside. Hope you like it!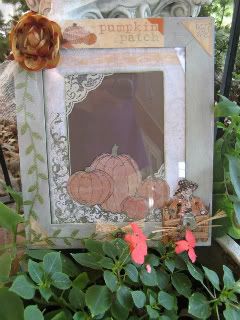 Thanks for stopping by!