Hello crafters,
Today I thought I'd share some of the tags I am making for the dress form tag swap. This round I signed up for 4 categories; Vintage Ladies, Fall/Thanksgiving,
Belle of the Ball and Designers Choice. I have finished 3 sets so far and I think
my final one will probably be the angel tag I previously posted. So here are the
other three tags. For this one I used the dress form from the Nifty Fifties cart. There are 3 kinds of lace, ribbon, mini bloomers, pearls, and paper on it besides the emboss work and tea stain.
Vintage Ladies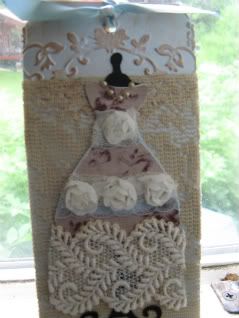 Here is the full set
The next category is Fall/ Autumn
I had some small peices of tan suede and used them to make my Indian dresses I also got the tiny beads in a little tin box at a garage sale and thought they were perfect for an Indian necklace and beadwork on the dress, they are not all exactly alike but very similar. Behind the dress I have a little trukey cut from the Thanksgiving cart.
Here is the full set
Finally I have the Belle of the Ball tag. This is my favorite of these three
I am really happy with the way this turned out. I also just loved this paper
which was in the Happily Ever After 12 by 12 paper stack. The little roses are from Recollections . On this and the fall one I used the TH dress form die and tag.
Here is the full set
Thanks for stopping by...feel free to leave a comment.
Kathy